LEARNER DRIVER COMPLETE
A pack designed for the learner car driver which contains everything needed to study for the UK Driving Theory Test. 
Practical Advice, Official DVSA Theory Test Questions, Unlimited Mock Tests, Hazard Perception, ONLINE TRAINING on your PC, laptop, netbook, Mac, smartphone or tablet., Official DVSA L- Plates (Fully Magnetic) Official Highway Code.
With this pack you can be sure you have everything you need to get through the driving Theory Test as well as a massive amount of information that will assist you on the practical part of the test.
 Ideal for 16 -17 year olds. Perfect Birthday Present.



DVSA - Driving the essential skills Book

DVSA - Driving the essential skills Book

Practical Driving advice, referenced from the Car Theory Book

Sharpen your driving skills - information on essential driving techniques, including overtaking safely, using limit points, defensive driving and maneuvering

In all conditions - expert advice on driving safely and confidently at night, in adverse weather conditions, on motorways and through roadworks

Pass your theory test - this book is a key source material for the car and driving instructor theory tests

Up-to-date information - on vehicle maintenance and security, fuel efficient driving, smart motorways and much more

For your driving life - hints and tips for a lifetime of safe driving, ideal for refreshing your knowledge before and after your test




DVSA - Car Theory Test Book

DVSA - Car Theory Test Book

Official Theory Test Questions, refernces to further learning from the Essential Skills Book




Practice questions – includes ALL the official DVSA theory test revision questions for all 14 topics, so you can see how much you've learnt

Practice case studies – the ONLY book to include official DVSA practice case studies on every topic, plus additional case studies for extra revision

Bite-size information – written in an easy-to-remember way that links the theory to your practical driving experience, helping you to really understand

Learn your way – loads of photos and diagrams, links to more information and videos, online, hints and tips to help you learn, and expert advice on what to expect on the day

Extra help to understand the answers – each question includes references to the official Driving essential skills book included in this pack




DVSA - Guide to Learning to Drive Book

DVSA - Guide to Learning to Drive Book

Updated learner driver record - Learner driver record has been fully updated. You can use it to record all the training you do with your driving instructor

Practical test explained - describes the standards required to pass your practical test, including information on independent driving

Private practice help - advice for those working with a learner driver and their instructor to get the most out of time between lessons

What to expect on the test itself - explains what the examiner is looking for, plus tips from the experts

Structured Learning, advice for those accompanying L Drivers



Focus All Tests 3month Subscription

Focus All Tests 3month Subscription

DVSA Revision Tools

Hazard Perception Clips

Progress Monitoring

New Practical Driving Lessons

Show Me, Tell Me

Flexible Learning

Official Mock Theory Tests and much more

This is a physical cardboard wallet which we despatch by post to your address that contains a code allowing you to access ONLINE TRAINING on your PC, laptop, netbook, Mac, smartphone or tablet. Ideal for a present for those who do not have a dvd drive on their computer

Inside you'll find 3 months unlimited access to the UK's most complete online training solution. Simply login and start revising for your tests anytime, anywhere, using your PC, laptop, netbook, Mac, smartphone or tablet.Note:

Your 3 months Gold Membership will only begin when you enter your activation code online

*Requires internet access



A pack of 78 Quality Flash Cards,

ideal for Dyslexic pupils




Each card has a road sign on the front with the same road sign and answer on the back. This is perfect practise for revising on your own or by having someone test you.

Cards measure 7cm wide by 12cm long which make them big and clear to see, but compact enough to carry. Now you can study wherever you are.

Each street sign is crisp and colourful making them easy to understand, especially for those with dyslexia and learning difficulties.



Pair of Fully Magnetic,L Plates:



Not the cheap version

  

with just a small magnetic strip. that blow of in the wind





The entire DVSA plates are made from magnetic material. These L Plates are going to stay put even at the legal speed limit



Latest edition contains all the latest rules of the road. 

Essential reading


New rules on the hierarchy of road users - This means the introduction of new responsibilities towards more vulnerable road users, to keep them safe on the road. These are known as the 'H' rules

Mobile Phones - Tighter restrictions on the use of mobile phones whilst driving

Junctions - You should give way to pedestrians crossing or waiting to cross a road that you're turning into

Parking Laws - New rules around parking on pavements

Source material - The Official Highway Code remains one of the source materials for all theory tests

Keep safe, make sure you're up to date with the latest rules of the road. Avoid penalties and fines by getting the latest copy of The Official Highway Code.

The very latest rules of the road, including to the laws you should keep to in order to avoid fines, penalty points, disqualification and even prison

References to legislation that offences are based on

Advice on road safety and best practice

Source material for many theory test questions an essential resource for test preparation

Advice to help newly qualified drivers through the first twelve months after passing their test the period when theyre most vulnerable

Emphasis on courtesy, attitude and awareness
---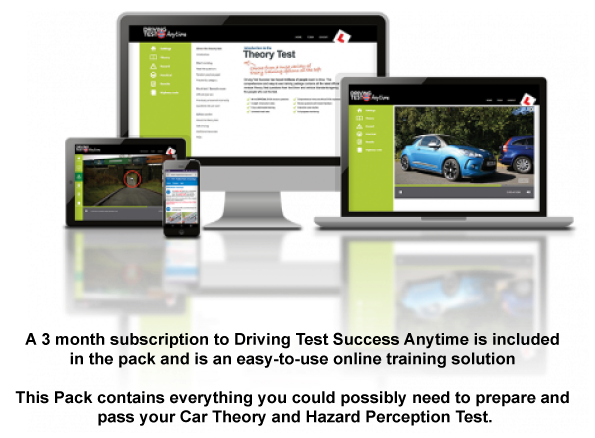 Send this to a friend
LEARNER DRIVER COMPLETE