The Official DVSA Guide to Learning to Drive Book
The Official DVSA Guide to Learning to Drive Book
Want to pass your practical car driving test? The Official DVSA Guide to Learning to Drive tells you what you need to know.
This new edition also explains in detail the practical tests in England, Scotland and Wales. Includes the manoeuvres that candidates will be asked to carry out, the independent driving part of the test, and the timing of vehicle safety questions (the 'show me', tell me questions)

Updated learner driver record - Learner driver record has been fully updated. You can use it to record all the training you do with your driving instructor
Practical test explained - describes the standards required to pass your practical test, including information on independent driving
Private practice help - advice for those working with a learner driver and their instructor to get the most out of time between lessons
What to expect on the test itself - explains what the examiner is looking for, plus tips from the experts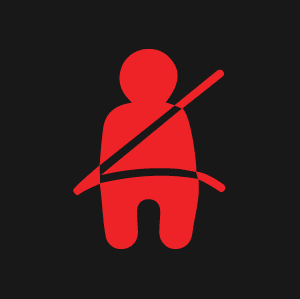 ▼

What does this symbol above mean. 
What It Means:
Provided you are using your seat belts correctly this light should not be illuminated when the engine is running, if it stays illumiated then there is an issue. 

What To Do:
Modern cars are packed with airbags and active restraint systems that must be checked by a garage should this symbol illuminate. It's important to do this as soon as possible, because there is a risk these safety features may not work in the event of a collision.. 


---
Send this to a friend
The Official DVSA Guide to Learning to Drive Book