ROAD SIGN FLASH CARDS
A Quality Pack of 78 Most Popular Road Trafic Sign Flash Cards
These flash cards are a perfect learning aid for any learner driver and contain 78 of the most popular road signs that you need to know in order to help pass a UK driving test.
If you're an ADI driving instructor, teacher or part of a driving school then these flash cards will help prepare your students for their driving test, or car DVSA theory test.
The perfect 16th birthday gift if just getting started with driving lessons.
Each card has a road sign on the front with the same road sign and answer on the back. This is perfect practise for revising on your own or by having someone test you.
Cards measure 7cm wide by 12cm long which make them big and clear to see, but compact enough to carry. Now you can study wherever you are.
Each street sign is crisp and colourful making them easy to understand, especially for those with dyslexia and learning difficulties.
All cards are made from quality card that are plastic coated. This makes them longer-lasting, durable, easy to hold and easy to shuffle. Cards come in a box which keeps them safe and secure, and making it easy to carry the training cards in your pocket or a bag.
MADE IN THE UK
---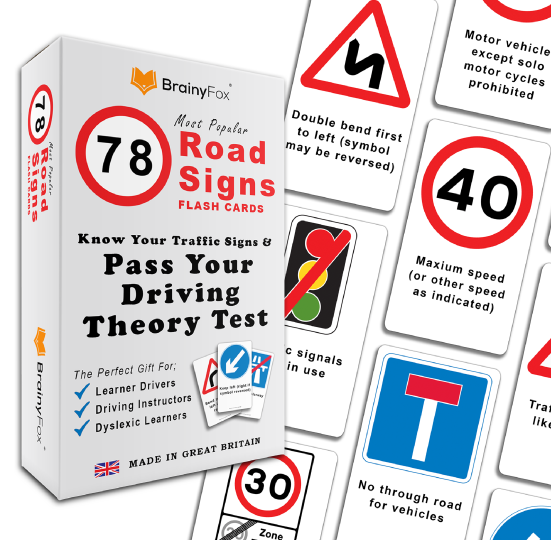 Send this to a friend
ROAD SIGN FLASH CARDS