DVSA VISION
DVSA sets out vision to keep Britain moving safely and sustainably
From:
Driver and Vehicle Standards Agency Published 4 April 2023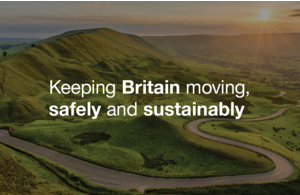 The Driver and Vehicle Standards Agency (DVSA) has launched its vision to 2030, setting out what needs to be done to keep Britain moving safely and sustainably.
By the end of this decade, DVSA will have made progress against 5 important challenges and opportunities. These are to:
make roads safer
improve services for its customers
make road transport greener and healthier
harness the potential of technology and data
grow and level up the economy
Enabling a transport revolution
DVSA is launching its ambitious vision at a time when the country is on the cusp of a transport revolution.
There will be rapid change between now and the end of the decade.
the sale of new fully petrol or diesel cars will have been banned
10 million battery electric vehicles are expected on the roads
1 in 8 new cars sold could have self-driving features
half of all journeys in towns and cities will be made by walking or cycling
DVSA already plays a leading role in:
setting driver and vehicle standards, and assessing that drivers and vehicles are safe
licensing, accrediting, regulating and enforcing in industries including driver training, MOT testing and commercial vehicle operators
Under its new vision, DVSA will significantly increase its work to inform, educate and advise the public and businesses.
Overall, these activities will help to make sure that:

driving standards and driving tests are suitable for self-driving vehicles
taking theory tests and driving tests becomes more convenient
existing drivers are able to use self-driving vehicles safely
the vehicle approval process promotes innovation in automation and net-zero emissions
MOT testing and in-service vehicle safety keep up with the latest vehicle technology, such as artificial intelligence, radar and lidar (light detection and ranging)
vehicle data is accessible and easy to use
commercial vehicle operators have clear standards to follow that reflect the latest technology
more commercial driver and vehicle non-compliance is detected remotely through better data and technology
commercial vehicle operators have access to tailored guidance to help them
Making a difference to society
The vision focuses on outcomes that help make a real and lasting difference to everyone living in Great Britain.
It will guide work to:
reduce the numbers of people killed and seriously injured on our roads, which in turn reduces pressure on the NHS
help people to use new connected and autonomous mobility technology safely, giving people more independence
improve public transport services, enabling more and better access to work and education
help the road haulage industry become more efficient and keep supply chains resilient, helping everyone with the cost of living
help to create 38,000 jobs in the self-driving vehicle industry
help to end the UK's contribution to climate change by becoming net zero
help reduce air pollution from road transport, as human-made air pollution causes between 28,000 and 36,000 deaths every year
Loveday Ryder, DVSA Chief Executive, said:
Whatever your stake in DVSA, we want to set out what the DVSA plans to achieve on behalf of our customers and stakeholders. That's whether you work for us or in partnership with us, or you are responsible for holding us to account.
Our strategic plan to 2025 and vision to 2030 set out our ambitions and the challenges we set ourselves to achieve our vision to 2030 of keeping Britain moving, safely and sustainably.
The transformative plans in these documents demonstrate our drive for more efficient services. We will always keep looking for ways to build on this to support the government's ambitions.